About our REMÓT Experiences
Working closely with locals across the Faroe Islands, we have created a range of unique REMÓT Experiences, accessible only to REMÓT Travelers. REMÓT Experiences include fascinating site visits, divine culinary adventures and unforgettable cultural encounters. All REMÓT Experiences are arranged privately for REMÓT Travelers; unless clients wish otherwise. Explore some of our REMÓT Experiences below:
What we provide
We provide a full-service offering for our travelers – everything from accommodation to local guides to culinary experiences to transportation. We facilitate this full-service offering in three main steps:

Describe your Dream Trip
Describe your unique vacation in the Faroe Islands. Your preferences for destinations, activities and must-sees.

Get Matched
A REMÓT Travel Specialist will reach out to work with you to create your personalized Faroe Islands travel itinerary
Book your Journey
Once the outline for your trip is ready, you can place your booking – and your REMÓT Expert will be looking forward to welcoming you to the Faroe Islands.
Winding Roads
Driving around the Faroe Islands is an experience like no other. From the comfort of a car, travelers navigate charming winding roads while marveling at breathtaking scenery, dramatic bridges, and underwater tunnels. It's no wonder that many travelers mark driving, and the ritual of stopping for small hikes, taking pictures, and enjoying a warm outdoor drink, as one of the best ways to experience the islands. Given the Faroe Islands' small size, unless sea transport is required, most destinations are accessible by car within 30 minutes.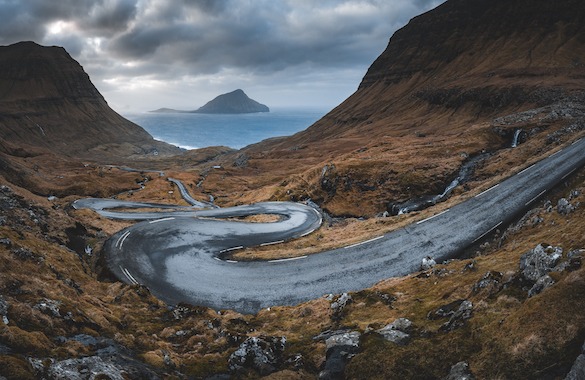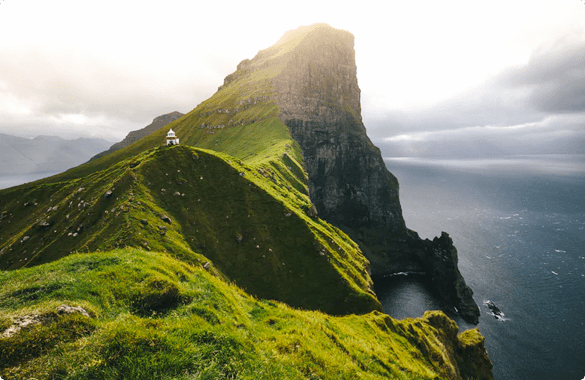 Kallur Lighthouse
A hike to Kallur Lighthouse, or simply Kallurin, is on many of our travelers' to-do lists. The grand and picturesque natural landscape reaches up towards the lighthouse on the cliff's ridge. From this stunning vantage point, you can survey thriving birdlife to the thundering soundtrack of waves crashing down below. In the distance, you can enjoy panoramic views of the cliff of Borgarin and the spike-peaked mountain of Nestindar.